Diaspora is a striking spectacle, an unpredictable riot of sound and light that starts at a heightened wavelength and only gets more intense. If nothing else, I will say this for our bodiless future: it won't be boring.
We see humans blending with machines before lasers and lighting take over the entire room, spilling spectacular and fantastic light into every corner.
The performance itself offers a visceral experience that transcends and overwhelms the senses…A magnificent streaming of laser and light effects circumnavigate the room, while sonic sound continues to permeate the space.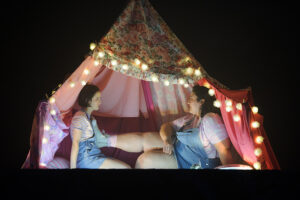 The performers are framed and elevated by the show's production elements… Amelia Lever-Davidson provides an interplay of colour, light and dark which avoids the obvious and sets the atmosphere well.
Theatrepeople
The impeccable lighting design (Amelia Lever- Davidson) and sound and video composition (Alisdair Macindoe) are vividly integrated, creating alternating realities that are mesmerizing, as they merge in a counter balance of striking and confronting physical performance
Stage Whispers
The [lighting] effects create corridors and different levels in space where the dancers appear and disappear, sometimes seeming to inhabit different planes. One wonderful effect has broad bands of shadow appearing to wrap themselves around the dancers' bodies and stretch and pull at their limbs and torsos. Although a very prominent feature, the lighting by Amelia Lever-Davidson is not overdone but anchors the work in its imagined future dystopia.
Dance Australia
Langlois's Nether begins with a spectacular display of white lasers, emanating from a single source to create sheets of light that carve the empty space into a dynamic geometry. Along with Alisdair Macindoe's pulsing electronic score, Amelia Lever-Davidson's lighting design is a major feature of the performance: it makes light seem a material object, dividing the space like pulsing fabrics, and interacting with the two dancers, Langlois and James Vu Anh Pham.
Witness Performance
The cascading beams of light from a single source against a jet-black stage make quite an impression in the opening minutes, before the two dancers appear. During their routine, my emotional reaction to the performance varied as the mood shifted. My sensory perception was heightened by the sights and sounds. As Vu Ahn Pham in particular stepped in and out of the light, I felt like he was moving from one realm to another."
The Blurb
Nether opens the program with sharp beams of light that expand to divide the stage into liminal, malleable and artificial segments. Langlois and fellow dancer James Vu Ahn Pham slip between these worlds, and as they move, it is almost as though their bodies and movements are fragmented by the passages.
The Age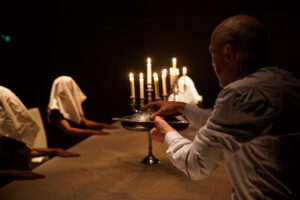 In a space that was vastly bare, the lighting design masterfully became the walls and barriers of the space in a way that paved the confines of the actors whilst only further accentuating their messages. Lighting Designer Amelia Lever-Davidson proves herself as undeniably formidable in her landscape of lighting; whether paving pathways around the outskirts to be traced like a tightrope, or spotlighting a moment of fear and freeze framing it dramatically in a vignette of twisted fate, Lever-Davidson harnesses the show's true intentions in a way that body cannot, and allows the piece to transcend the theatre and become a thousand different worlds and minds. She is truly an artist with her work.
Theatre People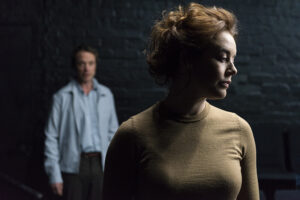 Incisive lighting design by Amelia Lever-Davidson helps us tune in, with a degree of meditative attention, in order that we may approach the staging with a heightened sensitivity.
Suzy Goes See
Amelia Lever-Davidson's lighting design uses florescent and incandescent lighting to underline shifts in time, keeping us abreast of what might otherwise be a slippery narrative…The most sophisticated of the 25A productions we've seen.
AUDREY Journal
Amelia Lever-Davidson's lighting choices enhance the piece's overall impact.
Theatrepeople
That beginning, under stark fluorescent tubes is indicative of the rest of the production and how gently elucidatory it will be…Warm amber is contrasted with steel whites as their life adventures are played out against a background of expressive technical conceptualisation.  In one elongated sequence, for example, the audience travels with them for a sensuous few minutes of light and sound.
Sydney Arts Guide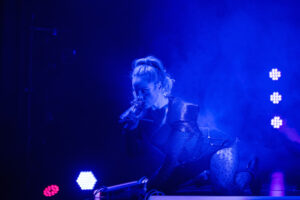 Amelia Lever-Davidson's bold neon lighting is world class…this production is staggeringly impressive; this is one of the most technically accomplished plays this reviewer has ever seen on Melbourne stages, large or small.
"ArtsHub
Amelia Lever-Davidson's lighting is superb, nailing the cold efficiency of Jodie's office and going to town on the heightened drama of Niche's musical numbers.
TimeOut
Dazzling light effects from Amelia Lever-Davidson.
Stage Whispers
Lighting by Amelia Lever-Davidson and set by Owen Philips left the impression of mini Eurovision stadium.
The Plus Ones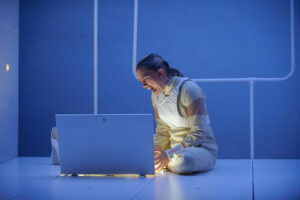 Every element of the production is worthy of mention. Matthew Adey and Amelia Lever-Davidson's set is the perfect contained world for this claustrophobic drama…The script is so clever and the stage-craft and performances so compelling that every moment of the show requires focused, embodied attention.
Arts Hub
I have never seen a better set design in an independently produced theatre show. It is quite simply stunning. Matthew Adey and Amelia Lever-Davidson have managed to create a fully fledged universe within the confined walls of the space ship…It's almost worth the price of admission alone.
Syn 90.7
The design is impeccable. The capsule of a spacecraft—a pod—looks stylish and minimal. Its elevation and tightness gives us a focused voyeuristic sensation. The audience feels the claustrophobia experienced by the actor(s) and the creation and breaking of the fourth wall plays with expectations, perspective and, in many ways gave the impression of time and space being distorted before our very eyes. The lighting enabled a constant change of atmosphere, without the need to change location.
Immanent Disaster
The concept (visual, aural, semiotic) sustains the work beautifully."
The Australian
Amelia Lever-Davidson's lighting design further enhances the darkness and loneliness, which is brilliantly encapsulated with an evocative final scene.
Theatre Press
Particularly beautiful was the forest where the final story takes place, made eerie and ethereal by Amelia Lever-Davison's lighting design which was brilliant throughout.
Theatre People
The stage set before us…immediately feels stark, fragile, and gives a sense of infinite wonder…Amelia Lever-Davidson's lighting and set design are ridiculously absorbing. Hall's shadow upon the paper backdrop morphs, distorts, multiplies and sharpens, evoking unique responses to different opinions. Warm side lighting gives her the broody air of a revolutionary. Later, the back lighting completely engulfs Hall and we witness an anonymised silhouette make sweeping generalisations.
Art Murmurs
"Hall is a master of her material. The 45-minute monologue of Hall simply standing on a blank white background, basically telling us one-line beliefs could be long.
It isn't. The pacing is enhanced with excellent lighting and soundscapes. It's not always comfortable, but it's slick and compelling theatre."
Theatre Review NZ
10,000 Small Deaths is a work of fine details and surreal minimalism. Alone on stage, Lay is sinewy, fragile and powerful. Her use of video is artful and dramatic while the expressionist lighting isolates her in dark space, a moment of life in a blackness stretching forever beyond. This is a beautiful, brooding work of both struggle and surrender. 
Paul Ransom, The Music
Perfectly suited to the dark embrace of Dancehouse's Sylvia Staehli Theatre, my eyes sought to bring the form into focus, as I was drawn into the very fabric of the work. Its texture: velvet. And earth, sparked by fireflies… there is an interplay between the real, the imagined and a seeking of what has not yet come into being.
Gracia Haby, Fjord Review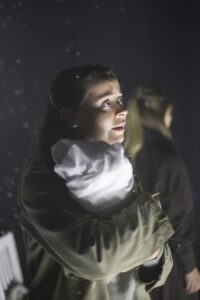 This impressive all-female production cast, crew and creators, is visually stunning. The lighting throughout the show is brilliant; search lights shine blindingly, a haze of smoke fills the air, flakes of snow constantly fall; all this provides a sense of doom as the future looks bleak. The story is thought provoking and the acting is powerful. This is a play not to be missed.
Toorak Times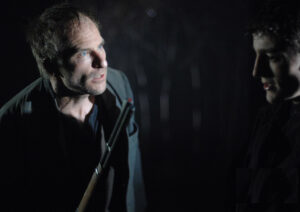 Amelia Lever-Davidson's moody lighting …completed the sketch of a rain-soaked, very unhappy England.
ArtsHub
Add to this [the] wonderful lighting by Amelia Lever-Davidson and we are transported to the Coveys world and share their fear of the power of the Foxfinder.
Stage Whispers
Amelia Lever-Davidson has lit [the set] in so many wonderful ways
Neontrade.com
The seeping water and turned earth are highly suggestive and, along with some strong lighting design by Amelia Lever-Davidson … create a distinctly creepy vibe.
TimeOut
Lighting designer Amelia Lever-Davidson further amplified this sensation with her atmospheric changes from darkness through dullness to dazzling brightness
Theatre Press